Swansea Concerts & Denovali Records presents:
DENOVALI LABEL NIGHT - LIVE CONCERT + EXCLUSIVE FULL LIVE STREAM
BERSARIN QUARTETT, CONTEMPORARY NOISE ENSEMBLE, DICTAPHONE, ORSON HENTSCHEL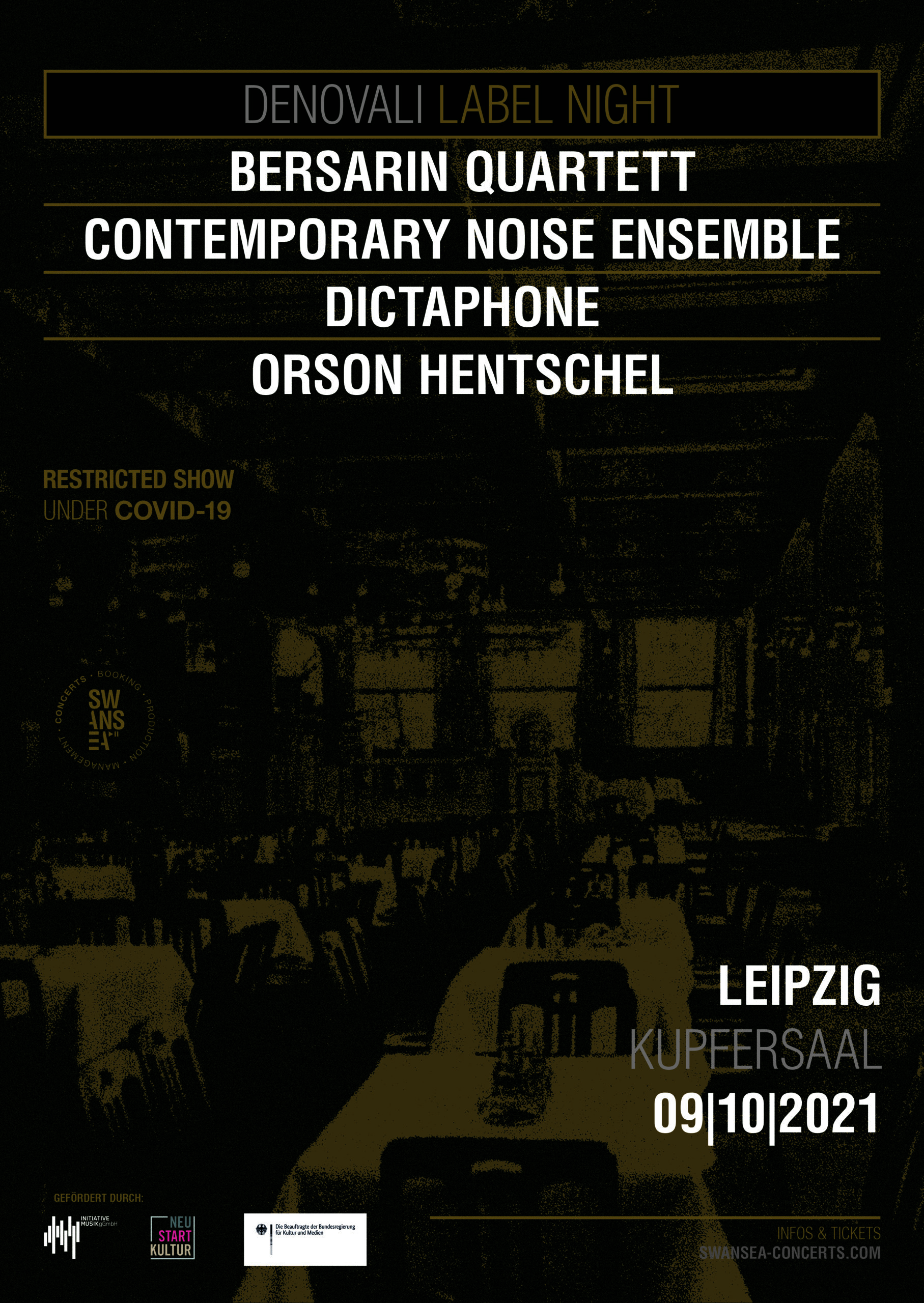 Swansea Concerts presents for the first time in Leipzig a concert evening of the German Experiemental label Denovali Records in the venerable Kupfersaal.

Tickets for the stream as well as real live concert tickets can be purchased at the following link.
ABOUT DENOVALI:
Denovali is an independent music label founded in 2005. Not confined to a specific genre the program of Denovali varies from ambient, electronica, experimental, drone to jazz, modern composition, sound art & more. www.denovali.com
__________
BERSARIN QUARTETT
after thirteen years and three epic, (bad-)dreamlike beautiful albums – have settled down with their fourth album "Methoden und Maschinen" ("methods and machines"). For the time being. Because at the same time many new layers and paths are emerging. Playing live in many arrangements and at great concerts in Slovenia, Poland, Czech Republic and Russia, this has grown into a quartet, but it is still the project of DJ, musician, graphic and audio designer Thomas Bücker. The numerous concert evenings with Andy Stott, Tim Hecker, Fennesz, Murcof, Dictaphone or Hidden Orchestra, among others, are undoubtedly noticeable on "Methoden und Maschinen". The Bersarin Quartett continues to stand for the outing of a complex musical subconscious. 'The Dark Side of the Moon', only that the moon is shimmering here, at least now and then. It's probably also due to the sun shining on it. Minimalism and bombast go together. Constantly developing and entangling contrasts, paradoxes and contradictions are the motor. Constantly caught between two sides. Don't believe the hype!
www.denovali.com/bersarinquartett
__________
CONTEMPORARY NOISE ENSEMBLE
CONTEMPORARY NOISE ENSEMBLE: jazz music without jazz, film music without a movie, but something splendid instead. Despite the band's name suggesting noisy music for the chosen ones, the Contemporary Noise Sextet appears to be a revelation for everyone. Beautiful piano tunes in the dialogue with a brass section, simple and extraordinary emotional compositions leading to a climax which makes the flesh creep while listening. The Contemporary Noise Sextet impress with maturity and class – there's elegance as well as punk energy. The compositions are unbelievably spacious, but on the other hand all filled with instruments – ranging from a superb rhythm combo to a greatly equipped brass section. The roots of the most of ContemporaryNoise Sextet's musicians reach harder music – thus it is not a surprise that their compositions are vigorous and expressive. There's no doubt that the CONTEMPORARY NOISE ENSEMBLE currently is one of the most fascinating musical projects from Poland which catches the attention of both pure jazz fans and people who are interested in experimental instrumental music in general.
www.denovali.com/noisesextet
__________
DICTAPHONE
The history of Dictaphone: In 2000 Oliver Doerell found a partner in Berlin's Roger Döring, who shares Doerell's love for the Brussels-based music of the eighties. In the following years the duo and several guest musicians (e.g. Stephan Wöhrmann (SWOD) , Malka Spigel (Minimal Compact) released the critically highly acclaimed "m.= addiction" (2002), the "Nacht" EP (2004) and "Vertigo II" (2006) via the City Centres Oces label of Thaddeus Herrmann and Shlom Sviri (Boomkat, Modern Love). In 2009 the violin player Alex Stolze joined the band. During their two decades of existence Dictaphone played shows in more than 20 countries with festival appearances at Mutek, Transmediale, Unsound, Benicassim & more. Their latest releases were the praised "Poems from a rooftop" (Sonic Pieces) from 2012 and the "goats & distortions 5" predecessor "APR 70" in 2017 on Denovali. Denovali also reissued the past repertoire of the trio in 2017. Oliver Doerell composed for more than 30 pieces of Modern Ballet and BBC documentaries.
www.denovali.com/dictaphone
__________
ORSON HENTSCHEL
Orson Hentschel is a German composer and visual artist based in Berlin. He composes experimental electronic music, with influences ranging from classical minimalism to triphop and drone. For his third studio album Orson Hentschel travels back to the past and into the future, combining both old and new sounds, merging analogue drum machines from the 60's with modern synthesizer environments. Hentschel largely forgoes melodies in order to create space for drone alike and sustained tones within the lower bass frequencies as well as noisy electronics. Sometimes a beat is coming straight out of the box, like in "Steady State" or "Ghost Echos". Constant rhythms alternate with fragmented, overlapped or reversed ones, like on "Antigravity" or "Walki Talki". For the rhythmical sound editing, Hentschel used the Watkins Copicat, an old tape echo, which was very popular back in the days and which amplifies the scratchy sounding characteristic of his rhythm machines. His overall vision is to create a futuristic vintage sound, which does not fit in any ordinary mould.
www.denovali.com/orsonhentschel
__________
COVID-19:
The concert will take place under the restrictions and hygiene measures in place on show day to help contain the Corona pandemic.
Details can only be announced shortly before the show due to a constantly changing situation. All ticket buyers will be informed.
Seating is limited – and will be adjusted according to the situation.
__________
funded by:
Initiative Musik gGmbH
Bundesregierung für Kultur und Medien
NEUSTART KULTUR
__________
#leipzigkonzerte
#kupfersaal
#denovalirecords
#swanseaconcerts
#jazz
#ambient
#bersarinquartett
#dictaphone
#orsonhentschel
#livestream
#tixforgigs
Swansea Concerts presents for the first time in Leipzig a concert evening of the German Experiemental label Denovali Records in the venerable Kupfersaal.

Tickets for the stream as well as real live concert tickets can be purchased at the following link.
ABOUT DENOVALI:
Denovali is an independent music label founded in 2005. Not confined to a specific genre the program of Denovali varies from ambient, electronica, experimental, drone to jazz, modern composition, sound art & more. www.denovali.com
__________
BERSARIN QUARTETT
after thirteen years and three epic, (bad-)dreamlike beautiful albums – have settled down with their fourth album "Methoden und Maschinen" ("methods and machines"). For the time being. Because at the same time many new layers and paths are emerging. Playing live in many arrangements and at great concerts in Slovenia, Poland, Czech Republic and Russia, this has grown into a quartet, but it is still the project of DJ, musician, graphic and audio designer Thomas Bücker. The numerous concert evenings with Andy Stott, Tim Hecker, Fennesz, Murcof, Dictaphone or Hidden Orchestra, among others, are undoubtedly noticeable on "Methoden und Maschinen". The Bersarin Quartett continues to stand for the outing of a complex musical subconscious. 'The Dark Side of the Moon', only that the moon is shimmering here, at least now and then. It's probably also due to the sun shining on it. Minimalism and bombast go together. Constantly developing and entangling contrasts, paradoxes and contradictions are the motor. Constantly caught between two sides. Don't believe the hype!
www.denovali.com/bersarinquartett
__________
CONTEMPORARY NOISE ENSEMBLE
CONTEMPORARY NOISE ENSEMBLE: jazz music without jazz, film music without a movie, but something splendid instead. Despite the band's name suggesting noisy music for the chosen ones, the Contemporary Noise Sextet appears to be a revelation for everyone. Beautiful piano tunes in the dialogue with a brass section, simple and extraordinary emotional compositions leading to a climax which makes the flesh creep while listening. The Contemporary Noise Sextet impress with maturity and class – there's elegance as well as punk energy. The compositions are unbelievably spacious, but on the other hand all filled with instruments – ranging from a superb rhythm combo to a greatly equipped brass section. The roots of the most of ContemporaryNoise Sextet's musicians reach harder music – thus it is not a surprise that their compositions are vigorous and expressive. There's no doubt that the CONTEMPORARY NOISE ENSEMBLE currently is one of the most fascinating musical projects from Poland which catches the attention of both pure jazz fans and people who are interested in experimental instrumental music in general.
www.denovali.com/noisesextet
__________
DICTAPHONE
The history of Dictaphone: In 2000 Oliver Doerell found a partner in Berlin's Roger Döring, who shares Doerell's love for the Brussels-based music of the eighties. In the following years the duo and several guest musicians (e.g. Stephan Wöhrmann (SWOD) , Malka Spigel (Minimal Compact) released the critically highly acclaimed "m.= addiction" (2002), the "Nacht" EP (2004) and "Vertigo II" (2006) via the City Centres Oces label of Thaddeus Herrmann and Shlom Sviri (Boomkat, Modern Love). In 2009 the violin player Alex Stolze joined the band. During their two decades of existence Dictaphone played shows in more than 20 countries with festival appearances at Mutek, Transmediale, Unsound, Benicassim & more. Their latest releases were the praised "Poems from a rooftop" (Sonic Pieces) from 2012 and the "goats & distortions 5" predecessor "APR 70" in 2017 on Denovali. Denovali also reissued the past repertoire of the trio in 2017. Oliver Doerell composed for more than 30 pieces of Modern Ballet and BBC documentaries.
www.denovali.com/dictaphone
__________
ORSON HENTSCHEL
Orson Hentschel is a German composer and visual artist based in Berlin. He composes experimental electronic music, with influences ranging from classical minimalism to triphop and drone. For his third studio album Orson Hentschel travels back to the past and into the future, combining both old and new sounds, merging analogue drum machines from the 60's with modern synthesizer environments. Hentschel largely forgoes melodies in order to create space for drone alike and sustained tones within the lower bass frequencies as well as noisy electronics. Sometimes a beat is coming straight out of the box, like in "Steady State" or "Ghost Echos". Constant rhythms alternate with fragmented, overlapped or reversed ones, like on "Antigravity" or "Walki Talki". For the rhythmical sound editing, Hentschel used the Watkins Copicat, an old tape echo, which was very popular back in the days and which amplifies the scratchy sounding characteristic of his rhythm machines. His overall vision is to create a futuristic vintage sound, which does not fit in any ordinary mould.
www.denovali.com/orsonhentschel
__________
COVID-19:
The concert will take place under the restrictions and hygiene measures in place on show day to help contain the Corona pandemic.
Details can only be announced shortly before the show due to a constantly changing situation. All ticket buyers will be informed.
Seating is limited – and will be adjusted according to the situation.
__________
funded by:
Initiative Musik gGmbH
Bundesregierung für Kultur und Medien
NEUSTART KULTUR
__________
#leipzigkonzerte
#kupfersaal
#denovalirecords
#swanseaconcerts
#jazz
#ambient
#bersarinquartett
#dictaphone
#orsonhentschel
#livestream
#tixforgigs